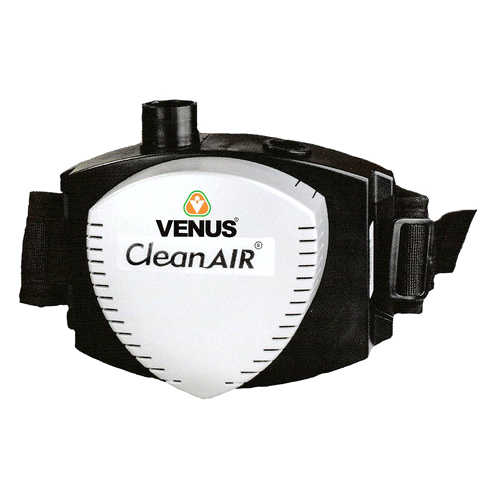 Product Description
VENUS Clean Air Basic Universal
(Powered Air Purifying Respirator)
A time-tested powered respiratory system determined for workplaces with air contaminated by particles. An easily exchangeable P3 particle filter protects against solid and liquid particles (eg. toxic dust, smoke, fibre, mist, fumes, bacteria and viruses).
Features:
Designed specially for particle filtration: Use for dust, non-toxic and toxic fumes, solid and liquid aerosols, bacteria and viruses
Light weight:
Can be used for long duration applications
Good comfort to wearer
User-friendly design: Easy to use control panel with well-arranged pictograms
Compatibility:
Compatible with whole range of Venus headpieces
Can be used in a wide range of applications
Set includes Battery, Charger, PVC Breathing Hose, Basic filters.
Compatible with Venus Hoods.
Technical specification:
Flow rate: *140 I/min -160 I/min
Weight (incl. filter and battery): 900g
Filter type: PSL
Filer Efficiency: 99,998%
Noiseness: Max. 61dB
Operating duration: **6-9 h
Filter Certification: EN 12941 TH1PSL
Accessories:
VENUS CleanAir Battery Item
VENUS CleanAir Basic Filter
Pre filters
Flow Indicator
Other Products in 'Respirators and Masks' category