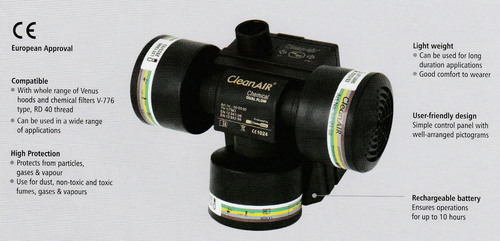 Product Description
Clean Air Chemical
(Powered Air Purifying Respirator)
A powered respiratory system for use against gaseous contaminants as well as their combination with particle pollutants. The unit is designed for standard filters with screw Rd40"1/7" acc. EN 148-1.
Features:
Compatible:
With whole range of Venus hoods and chemical filters V-776 type, RD 40 thread
Can be used in a wide range of applications
High Protection:
Protects from particles, gases & vapour
Use for dust, non-toxic and toxic fumes, gases & vapours
Light weight:
Can be used for long duration applications
Good comfort to wearer
User-friendly design: Simple control panel with well-arranged pictograms
Rechargeable battery: Ensures operations for up to 10 hours
Set includes Battery, Charger, PVC Breathing Hose Compatible with Venus Hoods & Venus V776 filters
Technical specification:
Flow rate: *140 1/min -160 I/min - ECO mode
Battery type: *180 1/min -200 1/min - TURBO mode, NiMH 6V/4.5Ah
Weight (incl. filter and battery): 1050g
Noiseness: Max. 62 dB
Operating duration: **6.5 - 12 h
Filter Certification: EN 12941
**with fully charged battery and clean filters.
**parameters depend on the chosen operating regime.
Accessories: VENUS CleanAir Battery
Other Products in 'Respirators and Masks' category